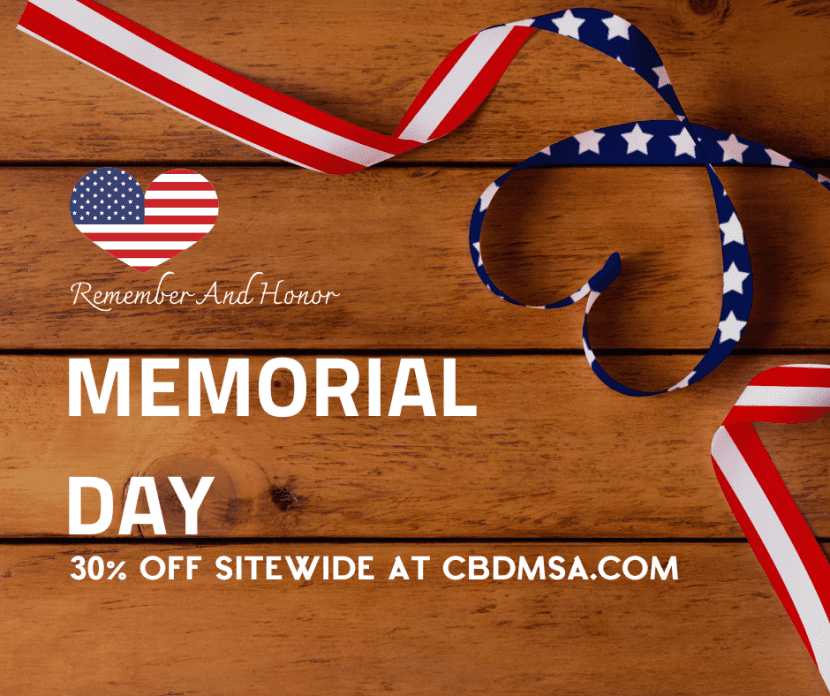 Memorial Day is a time to honor and remember those who have served our country, and it's also a great opportunity to take advantage of incredible sales. This Memorial Day, CBDMSA.com is here to help you revitalize your wellness routine with their special offer of 30% off sitewide! From Sunday through Monday, you can stock up on your favorite CBD products and enjoy significant savings.
CBD, short for cannabidiol, has gained immense popularity in recent years for its potential therapeutic benefits. It's known to support relaxation, promote a sense of calm, and aid in maintaining overall well-being. With CBDMSA.com's Memorial Day sale, you have the chance to explore their extensive range of premium CBD products at an unbeatable discount.
Whether you're a fan of CBD oils, delicious gummies, soothing topicals, or luxurious bath bombs, CBDMSA.com has you covered. Their products are carefully crafted using high-quality CBD extract sourced from organically grown hemp. Each batch is thoroughly tested to ensure purity, potency, and consistency, so you can trust that you're getting the best of the best.
Why not seize this opportunity to stock up on your favorite CBD essentials? You can replenish your supply of CBD oil tinctures to support your daily wellness routine, or perhaps try out new flavors of gummies for a delightful treat. If you're looking for targeted relief, their topicals can provide localized comfort, while their bath bombs create a luxurious spa-like experience.
To take advantage of this exclusive offer, simply visit CBDMSA.com during the Memorial Day sale period and enter the code MEMORIAL30 at checkout. It's that easy to unlock your 30% discount and enhance your wellness journey without breaking the bank.
Don't miss out on this fantastic opportunity to save while rejuvenating your mind and body. Mark your calendars, spread the word, and share this amazing Memorial Day sale with your friends and family. Together, let's celebrate Memorial Day by prioritizing our well-being and enjoying the benefits of premium CBD products.
Visit CBDMSA.com now and embrace a healthier, happier you with their Memorial Day sale. Hurry, as this offer is only valid for a limited time. Revitalize your wellness routine today!