Mesa is a bustling suburban city located 20 minutes east of Phoenix. It is the third-largest city in Arizona and is home to half a million people. Mesa is home to countless places for gorgeous views, unique dining experiences, and wild west adventure!
Superstition Mountains
Mesa boasts breathtaking views of the Superstition Mountains. Enjoy kayaking, ziplining horseback riding, dinner shows, or hike one of the many trails near the Superstition Mountains. Try adding some healthy activities to your day. Being active in social situations is associated with a stronger immune system, especially in older folks. You will also be able to fight colds, flu, and even cancer. Engaging with others also improves mental health as interacting with others boosts feelings of well-being.
Incredible Sunsets
The beautiful desert landscape is quite a sight to see at dusk. When the sun starts to set, the city glows an orange hue. Any clouds in the sky vary in colors of pink and lavender. A Mesa sunset is simply the perfect way to end your day. Did you know sunsets are actually good for your health? A Stanford psychologist conducted a study that found that moments like watching a spectacular sunset, participants felt like they appreciated life more. It's no wonder Mesa is known for its incredible sunsets.
Scorching Hot Temperatures
Mesa's hot desert climate has scorching summers, mild winters, with very little rainfall. Studies have shown warm, dry climates may help people feel better who live with arthritis. People who live with arthritis are more susceptible to temperature changes, barometric pressure changes, and humidity than others.
Outdoor Activities
Mesa is also known for its wide array of outdoor activities, including swimming. You can discover a world full of adventure through tubing, fishing, and kayaking in one of three lakes or two rivers within half an hour drive of Mesa. Participating in outdoor activities keeps the creative mind engaged and can help a person boost self-confidence.
Mild Winters
Snowbirds love Mesa for its mild winters. Tourists from colder climates flock to Arizona during the months of October through May. Plus you can save yourself the sore muscles from shoveling snow! However, new residents should prepare for the insufferable summer heat.
New to Mesa?
Stop in and visit us at Herbal Risings CBD Dispensary 420 E. Southern Avenue, in the Food City parking center at Mesa Drive and Southern. Opened in 2018, we have the largest inventory of CBD products in the East Valley! Choose from a huge selection of tinctures, salves, teas, hemp flower, pet products, gummies, and more! Mention the newintown special for 10% off your first order + a free cup of CBD coffee or a hemp pre-roll with any purchase.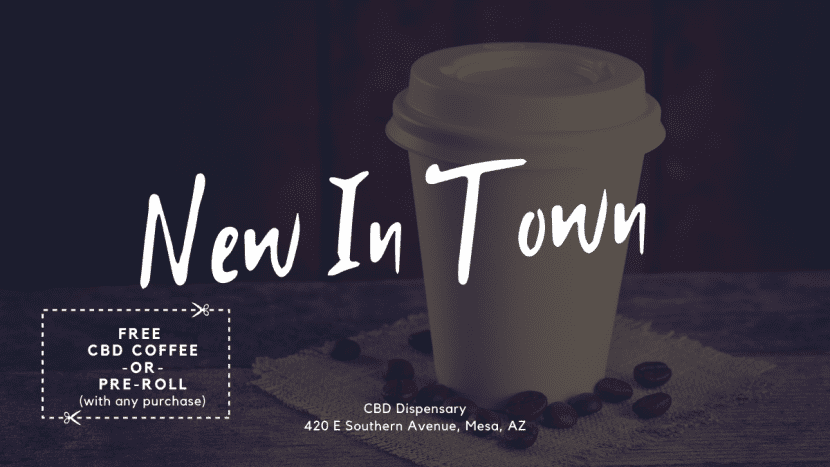 Moving to Mesa
Mesa is one of the best places to live in Arizona. Living in Arizona offers a wide array of dining choices. Discover incredible Mexican, Japanese, Vegan, Deli, and Indian restaurants in Mesa! For those who like to cook at home, Mesa holds a year-round Farmer's Market for locally-grown fruits and vegetables.
The Mesa Arts Center is a favorite for art enthusiasts. Concerts, classes, art activities, and performing arts are available at the Mesa Arts Center.